Mobile Area Chamber Names Manufacturer of the Year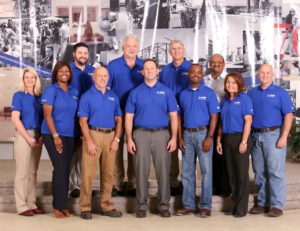 BASF Corporation's McIntosh facility was named the Mobile Area Chamber's 2016 Manufacturer of the Year at a recent Partner's for Growth (PFG) investor meeting. PFG, a program of the Mobile Area Chamber, is funded by private sector business and industry, the City of Mobile and Mobile County.
Since BASF acquired Ciba, including McIntosh in 2009, the Germany-headquartered company has maintained its local employee base, increased production and significantly invested in the site originally opened in 1952.
One of the world's largest chemical companies, the local production units benefit the food and beverage, automobile, furniture and flooring industries.
Over the last three years, BASF more than doubled its annual capital spending to make infrastructure improvements, expanded capacity and improved equipment reliability. Local managers expect this trend to continue the next three to five years, with advantageous market conditions and higher demand as the driving forces.
Employees actively support the community by donating time and support to area nonprofit agencies. The company funds a number of science scholarships at various educational institutions and hosts BASF Kids' Lab where students are scientists for a day.
The site has been honored with numerous safety and environmental awards, including Manufacture Alabama's Safety Award. Currently there are more than 550 employees at the McIntosh facility.
"BASF is a cornerstone of our chemical sector, anchoring our base materials corridor that stretches from Washington County to south Mobile County," said Troy Wayman, the Chamber's vice president of economic development. "Their commitment to the area is exemplified by their investments in Macintosh and co-location projects with other industry leaders in Theodore, as well as their charitable corporate citizenry make them an obvious choice for manufacturer of the year."
Scholarship Sponsors