Mobile Area Chamber Names Innovator of the Year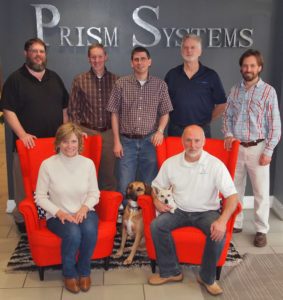 The Mobile Area Chamber presented Prism Systems its 2016 Innovator of the Year award at a recent Partner's for Growth (PFG) investor meeting. PFG, a program of the Mobile Area Chamber, is funded by private sector business and industry, the City of Mobile and Mobile County.
The work of Mobile-based Prism Systems touches your life in more ways than you can imagine. Your favorite candy bar, doughnut, soft drink or even a bottle of rum, with the help of the company's customized services it turns out right every time.
But more than food and beverages, the company's automation and control programming and software development services reach into Fortune 500 companies and other customers in 41 states and 31 countries in 12 key industries including energy, entertainment, government, oil and gas, pulp and paper, education and more.
The results mean world-class production, improved efficiency and reduced costs for customers.
Prism Systems and its employees are active in the local community, participating in the American Cancer Society Chili Cook-Off and hosting an annual Toys for Tots drive.
The 27-year-old company has nearly 50 employees, and earlier this year opened a new research and development lab, generating additional new hires. Other locations include engineering offices in Glendale, California; Birmingham, Alabama; and a manufacturing assembly location in Washington County.
"Prism Systems is a perfect example of Mobile, Alabama, touching the world. The innovative solutions they provide in multiple business environments across the globe showcases the capabilities and talent our community offers," said Troy Wayman, the Chamber's vice president of economic development.
Scholarship Sponsors